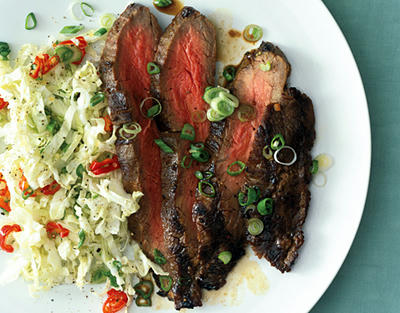 Ingredients
1/4 cup soy sauce
5 tablespoons vegetable oil
5 teaspoons minced peeled fresh ginger, divided
1 garlic clove, pressed
1 1 1/2-pound flank steak
3 tablespoons sugar
3 tablespoons seasoned rice vinegar
2 red jalape?os, thinly sliced into rounds
5 cups thinly sliced Napa cabbage (about 9 ounces)
3/4 cup chopped green onions, divided
Preparation
Prepare barbecue (medium heat). Mix soy sauce, oil, 3 teaspoons ginger, and garlic in resealable plastic bag. Add flank steak and seal bag; turn to coat. Let stand at room temperature 30 minutes, turning occasionally
Digital Signage
.
Stir sugar and vinegar in small saucepan over medium heat until sugar dissolves; remove from heat. Add jalape?os and remaining 2 teaspoons ginger. Place cabbage and 1/2 cup green onions in medium bowl
wine pairing
.
Pour vinegar mixture over and toss to coat. Season with salt and pepper. Let stand while grilling steak, tossing occasionally.
Grill steak until cooked to desired doneness, about 6 minutes per side for medium-rare. Transfer to work surface. Let rest 10 minutes. Slice steak thinly against grain. Sprinkle 1/4 cup green onions over slaw
international paper company
.
PR