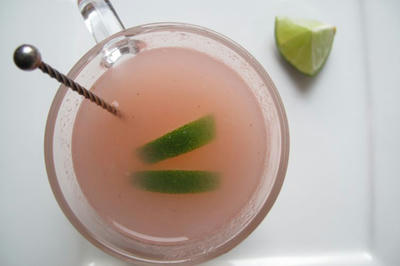 I've discovered that roasted rhubarb is the best way for me to preserve the sweet pink colour. As with roasting, the taste is accentuated and mixed with a lime-sugar syrup, it is the perfect base for light ginger ale, lemonade or sparkling water....
Serves 2
300g rhubarb, rinsed and cut into 2cm pieces
1/2 cup caster sugar
1 cup water
1/2 of a split vanilla pod
3 juniper berries, lightly crushed
Juice of 1/2 a lime
Mix the rhubarb pieces with 1/4 cup of sugar, tossing well so the pieces are coated.
Bake in an oven at 200 degrees centigrade for 15-20 minutes till the rhubarb is soft (test using the tip of a sharp knife)
While the rhubarb is roasting, combine the remaining 1/4 cup sugar, water, vanilla and juniper berries. Bring to a boil and reduce the heat to a gentle simmer, stirring well till the sugar is melted.
Remove from the heat and add the lime juice, then stir well.
When the rhubarb is done roasting, pour the lime sugar syrup into the roasting tin and stir well. Scrape the vanilla seeds and discard the pod.
Pour into a blender/use a hand blender and process till smooth. Pass the mixture through a sieve, pressing on the mixture with a spoon to extract as much juice as possible. Discard the thick mush left over.
Let the mixture cool down/refrigerate till ready to serve.
To serve, share the rhubarb syrup between two glasses and top up with your drink of choice - lemonade, ginger ale or sparkling water, ice cubes and lime slices
PR